Descriere Digimaster III (D3)
 1. Contine o platforma hardware performanta ce contine procesor de viteza mare ARM11.
 2. Functioneaza cu o gama variata de adaptoare cu care puteti duce la bun sfarsit corectarea kilometrajului, codare audio, resetare de airbag, resetare ECU, cod Pin, programare chei pentru Mercedes si Bmw, etc.
 3. Contine tehnologie avansata de programare de chei pentru Bmw Si Mercedes CAS-BDM citire/scriere si resetare; stergere de 35080V6, etc. Contine un numar mare de imagini si descrieri perticulare care te ajuta la o operare usoara si placuta.


Functii principale ale lui Digimaster III:
1. Corectare de kilometraj
2. Decodare audio
3. Reset de airbag
4. Programare de ECU
5. Citeste codul PIN
6. Programeaza chei

Noile update-uri pentru Digimaster III
1. I s-a adaugat posibilitatea de programare de chei.
2. Suporta ultimele tipuri de masini
3. Se poate updata astfel veti beneficia mereu de functii extinse.
4. Ecranul are dimensiuni mai generoase, crescand de la 320*240 la 800*480 acesta fiind mai mare, mai clar, mai precis.

Caracteristici speciale:
1. Suporta modificarea kilometrajului la grupul VAG, Bmw cum ar fi E65 cu CAS, Audi A6L si Q7.
2. Citeste CAS1/2/3 de la Bmw prin interfata OBD.
3. Citeste online sistemele CAS1/2/3+/4 de la Bmw, EEpromul EIS si flashul de la Mercedes Benz prin BDM
4. Suporta modificarea kilometrajului de la Mercedes seriile S, C, E, sistemul EIS, Porsche, Ferrari, Bentley si alte masini europene de lux.
5. Suporta seriile construite cu procesor Motorola/Freescale
6. Programeaza chei la Bmw si la Mercedes

Corectarea de kilometraj se poate face la masinile produse in Europa, America, Japonia si Korea.

O scurta lista de masini suportate:
Alfa
Cadillac
Daihatsu
Aston Martin
Chrysler
Honda
Audi
Ford
Hyundai
GM
ISUZU
BMW
Lincoln
KIA
Benz
Lexus
Citroen
Mazda
 FIAT
Mitsubishi
Ferrari
Nissan
Jaguar
Proton
Lamborghini
SSangYong      
Lancia
Subaru
Lotus
SUZUKI
Man
Toyota
Opel
Peugeot
Porsche         
Renault
Rover
Saab
Skoda
Volvo
Volkswagen
Wiesmann         
Truck Forkman
Maserati          
Alte vehicule, motociclete, camioane...


Resetare de airbag:
Airbag-Audi
Airbag-Mitsubishi
Airbag-Chrysler 
Airbag-Nissan
Airbag-China 
Airbag-Opel
Airbag-Citroen 
Airbag-Peugeot
Airbag-FIAT 
Airbag-Renault
Airbag-Ford 
Airbag-Rover
Airbag-GM 
Airbag-SSangYong
Airbag-Honda 
Airbag-Subaru
Airbag-Hyundai
Airbag-SUZUKI
Airbag-KIA 
Airbag-Toyota
Airbag-Mazda 
Airbag-Volkswagen
Airbag-Samsung

Imobilizator
Peugeot  Citroen  Audi

Programare de chei
BMW  Benz
Digimaster III English Full Description

1. It contains a high performance hardware platform which takes high-speed CPLD and the ARM11 processor as the core technology
2. It works with various types of adapter you can easily achieve odometer correction, Audio decoding, airbag resetting, engine ECU resetting, IMMO, programming key for Benz &BMW etc
3. It contains the advanced technology of programming new keys for BMW and Benz, CAS-BDM reading/writing and resetting; 35080V6 erasure etc. large numbers of pictures and particular description makes your operation pleasant.

Newly Update for Digimaster III

1.Digimaster-III Newly added key programming function
Digimaster III is applicable for high-class cars such as Mercedes Benz and BMW. Innovative automatic mode for key programming technology, multi-language operation, the key programming complete in one go, effectively ensure the security of reading and writing data.
2.DigiMaster-III New Generation Core Framework
Applying the new G3 platform of Yanhua Tech and the innovative consumption mode of "Pay as you go"support the latest car, global synchronic upgrade, extend and integrate functions freely.
3.Digimaster-III Intelligent Operation Platform
4.Upgrade the single-task system into intelligent multi-task and multi-thread operation system, extend functions freely and unlimitedly.
5.DigiMaster-III Comprehensive Upgraded Operation Interface
It breaks away from the original monotonous static interface, based on IE core technology to support rich and dynamic effects as well as advanced skin interface. And it is more beautiful and friendly, supports for many language around the world.
6.DigiMaster-III High Definition Digital Screen
Upgrade the low definition LCD color screen (320X240) to the imported HD digital TFT color screen (800X480) which applying the precision touch technology

Digimaster III Main Function

-Odometer correction
-Audio decoding
-Airbage reset
-ECU programming
-PIN Code Reading
-BMW key programming

Special Feature

1.Support OBD-II interface odometer adjustment of Volkswagen, Audi, Benz, BMW and BMW 7 Series models: E65 CAS and the 2009 Audi A6L and Q7.
2.Read BMW CAS1/ 2/ 3 data by CAN interface.
3.Online reading BMW CAS1/ 2/ 3/ 3+/ 4, Mercedes-Benz EIS EEPROM and FLASH data by BDM.
4.Support the Mercedes-Benz S, C, E, odometer and EIS adjustment; Porsche, Ferrari, Bentley and other European luxury cars odometer adjustment; Chinese domestic car MCU and engineering machinery odometer adjustment;
5.Support the MOTOROLA/FREESCALE series CPU (including some CPU flash) data read and write.
6.Support key programming for Mercedes Benz and BMW series cars.

Odometer Correction: Vehicle including cars from European, American, Japanese and Korea.

European, American, Japanese and Korean
Alfa Cadillac Daihatsu
Aston Martin Chrysler Honda
Audi Ford Hyundai
Bentley GMISUZU
BMW Lincoln KIA
Benz Lexus
Citroen Mazda
FIAT Mitsubishi
Ferrari Nissan
Jaguar Proton
Lamborghini SSangYong
Lancia Subaru
Lotus SUZUKI
Man Toyota
Opel
Peugeot
Porsche
Renault
Rover
Saab
Skoda
Volvo
Volkswagen
Wiesmann
Truck
Forkman
Maserati
Other vehicle Motorcycle Truck
Truck 
Airbag Resetting 

Airbag-Audi
Airbag-Mitsubishi 
Airbag-Chrysler  
Airbag-Nissan 
Airbag-China  
Airbag-Opel 
Airbag-Citroen  
Airbag-Peugeot 
Airbag-FIAT  
Airbag-Renault 
Airbag-Ford  
Airbag-Rover 
Airbag-GM  
Airbag-SSangYong 
Airbag-Honda  
Airbag-Subaru 
Airbag-Hyundai 
Airbag-SUZUKI 
Airbag-KIA  
Airbag-Toyota 
Airbag-Mazda  
Airbag-Volkswagen 
Airbag-Samsung 

IMMO 
Peugeot,Citroen,Audi 

Key Programming 
BMW  Benz 

Digimaster 3 Connector Instruction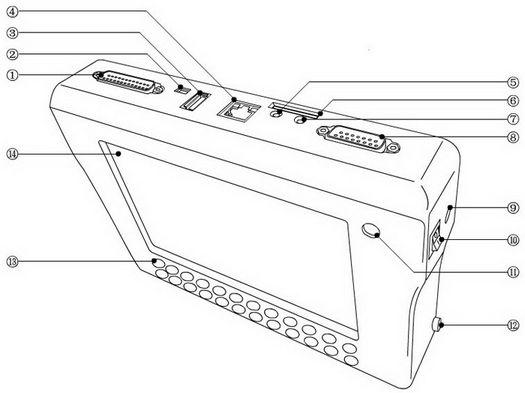 | | | | |
| --- | --- | --- | --- |
| 1 | 25 Pin adapter connector | 8 | 15 Pin adapter connector |
| 2 | Mini USB Connector | 9 | Power adapter |
| 3 | USB Mouse Connector | 10 | switch |
| 4 | RJ45 LAN Connector | 11 | Power Indicator Light |
| 5 | Earphone Connector | 12 | Touch-Pen Connector |
| 6 | SD Card Connector | 13 | Keyboard |
| 7 | Microphone Connector | 14 | 7 Inch LCD Touch-screen |
| | |
| --- | --- |
| Keystoke | Function Instruction |
| F1 | Backspace |
| keyboard | open/close soft-keyboard |
| ESC | ESC |
| OK | Enter |

Digimaster 3 Adapter List
OBP Adapter
ICP Adapter
NEC Adapter
NEC 14-PIN cable
W203/W220 Adapter
TMS370 Programmer
MCU Adapter
K&CAN Adapter
CAN-OBD DMI
VW AUDI OBDII
BENZ 38PIN
BENZ OBD
BMW E36
BMW E36 Meter Socket Connecting Cable
BMW E38/39
BENZ 95S
JAGUAR11DU
C/E CLASS
Ford Ranger
9S12 Adapter
Lexus LS400 Adapter
Grand Cherokee Adapter
W211 Adapter
E65/E66 Adapter
CAN&BDM Programmer
BMW CAN Adapter
MC705-PROG Adapter
MC711-PROG Adapter
NEC KEY
MC705E6
CAS OBD II
NXP
IAR key
ESL
29FXX

Digimaster 3 workable market and cars: Europe, America, Japan and Korea, Motor and Engineering truck

Digimaster 3 airbag resetting for the following brand cars
Digimaster 3 supports audio decoding for the following cars
Digimaster 3 workable market
Digimaster 3 supportted European car list Digimaster 3 supportted American car list
Digimaster 3 supportted Japanese and Korean car list
Digimaster iii support Motor type
Digimaster iii program keys for Mercedes Benz and support models


ATENTIE ! Fiind un tester original si cu o valoare considerabila la data comenzii veti plati un

avans de 30

%

, urmand ca diferenta de plata ca o achitati la data livrarii produsului la sediul dvs.