Noul DELFI  VCI+ 2017 + Laptop Dedicat Diagnozei Auto clasa de calitate A+, versiunea superioara calitativ prezenta acum si in limba romana este un tester auto profesional multimarca utilizabil universal atat pentru turisme fabricate din 1988 cat si pentru camioane produse din 1995 pana in prezent. Preia complet toate functiile DS100e (CDP+) si acopera o gama extinsa de automobile, respectiv in jur de aproximativ 54000 de sisteme de calculatoare auto pentru mai mult de 4000 de modele de la peste 48 de producatori atat din Uniunea Europeana, Usa cat si Japonia, China. Produsul prezentat este de cea mai buna calitate, import direct de la producator, are garantie 12 luni (Mare Atentie ce cumparati si de unde cumparati acest produs !). Aparatul de diagnoza vandut de noi suporta software-ul complet  Original 2017, nu da erori si nu are nici un fel de problema de firmware. Veti avea o data cu produsul GRATUIT la dispozitie atat versiunea 2016 cat si update 2017 atat pentru turisme, camioane, autoutilitare. Pentru versiunea noua 2017 costul activarii este promotional 0 Euro si oferta baza de date a automobilelor pana in 2017 inclusiv.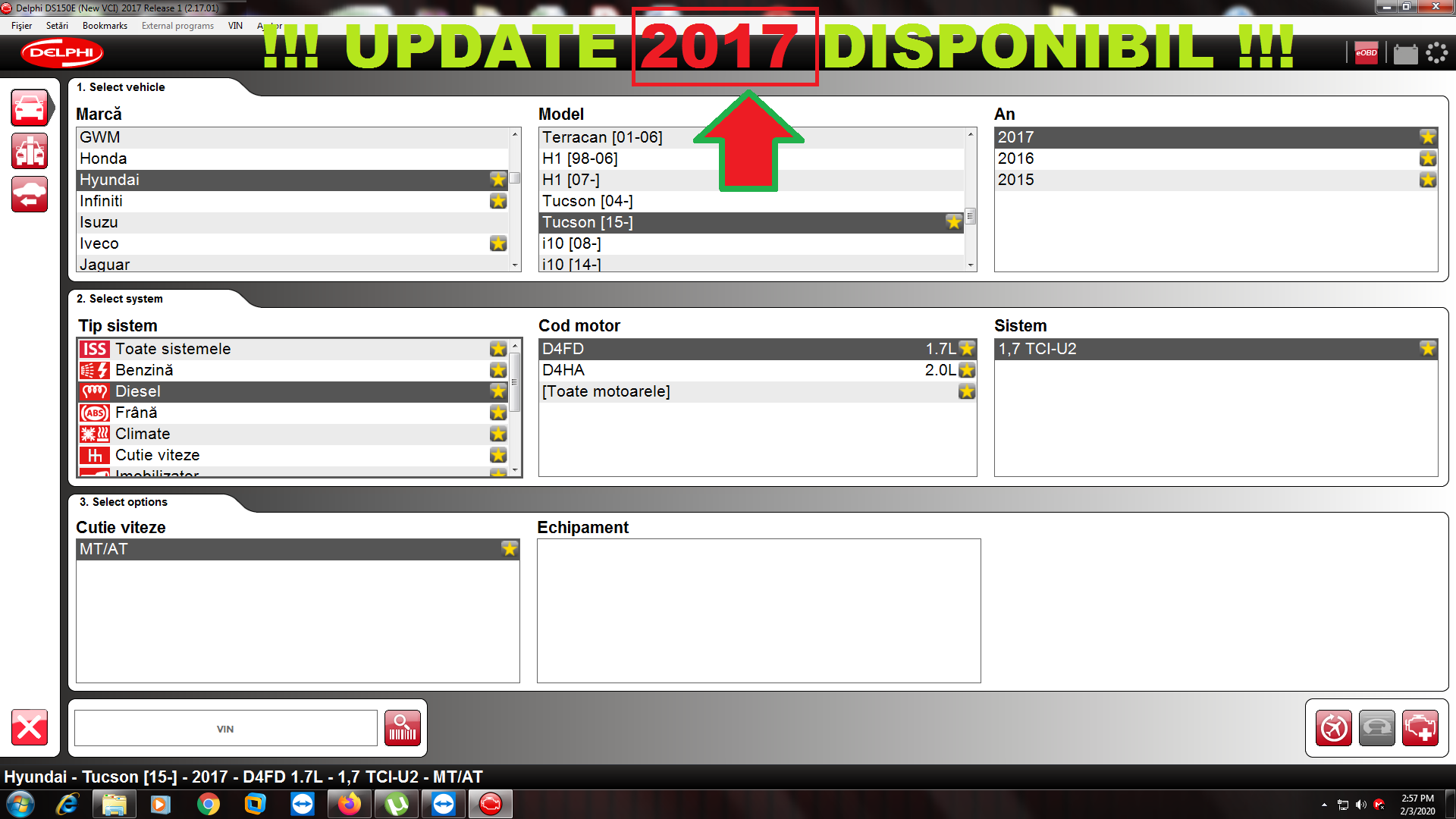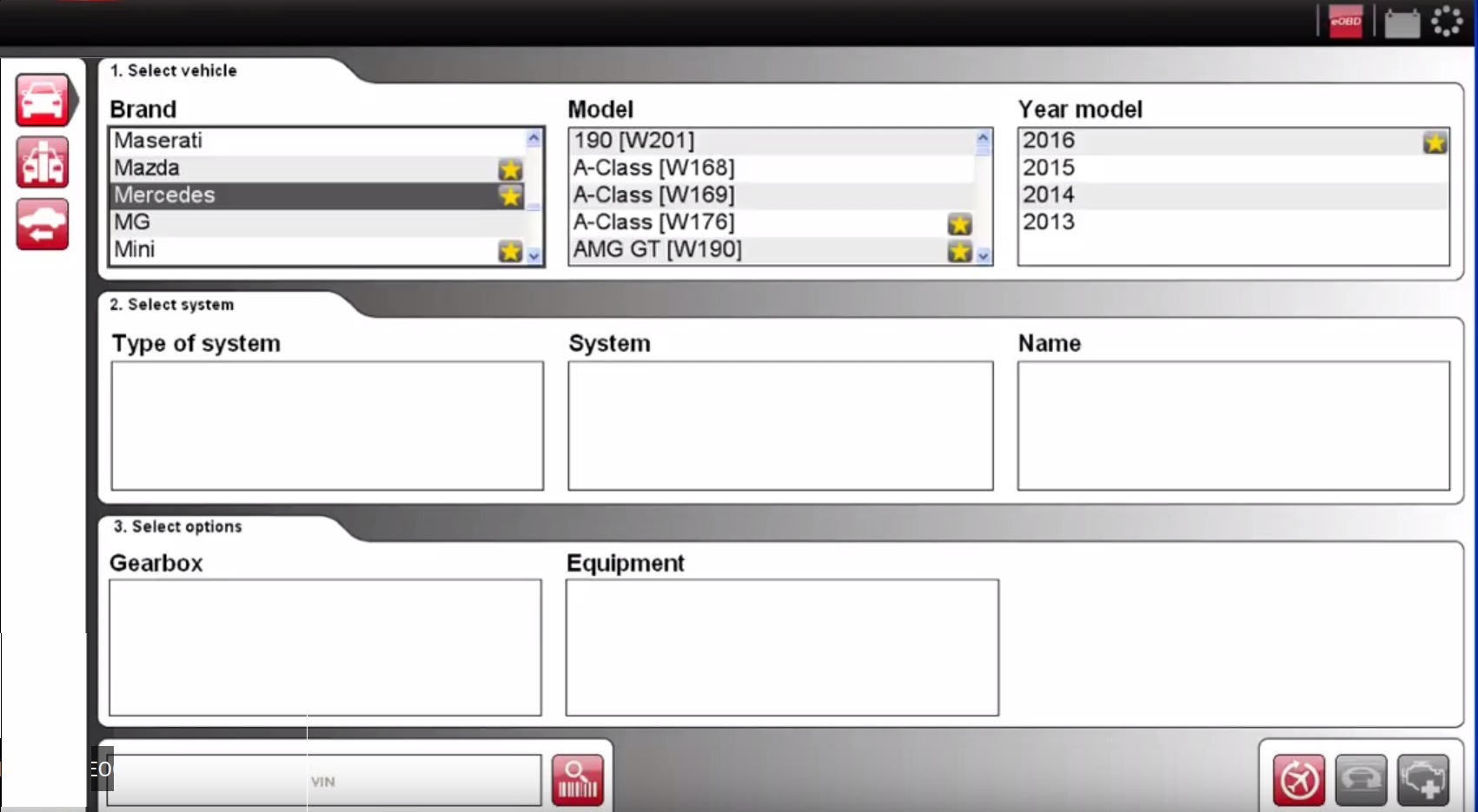 Ofera diagnoza auto completa pentru: BMW, VAG, Ford, Peugeot, Citroen, Renault, Vauxhall, Rover, Fiat, Volvo, Mazda, Mercedes, Smart, Nissan, Subaru, Toyota, Hyundai, etc.
Modele de masini suportate:
Alfa Romeo, Audi, BMW, Cadillac, Chevrolet, Chrysler, Citroen, Dacia, Daewoo, Dodge, Ferrari, Fiat, Ford, Honda, Hyundai, Isuzu, Iveco, Jaguar, Jeep, Kia, Lamborghini, Lancia, Land Rover, Lexus, Lotus, Maserati, Mazda, Mercedes, MG, Mini, Mitsubishi, Nissan, Opel / Vauxhall, Peugeot, Porsche, Renault, Rover, Saab, Samsung, Seat, Skoda, Smart, SsangYong, Subaru, Suzuki, Toyota, Volkswagen, Volvo, etc. 
Modele de camioane suportate:
Allison, Chevrolet, Citroen, Dacia, DAF, Fiat, Ford, Hyundai, Isuzu, Iveco, Iveco trucks, KIA, MAN, MAN BUS, Mazda, Mercedes, Mitsubishi, Nissan, Opel/vaux hall, Peugeot, Renault , Renault truck, Scania, Scania bus chassis, Seat, Skoda, Toyota, Trailers, Volkswagen, Volvo bus chassis, Volvo trucks.
Placa de baza verde Delphi DELFI , Relee NEC, Poza Reala fata/verso: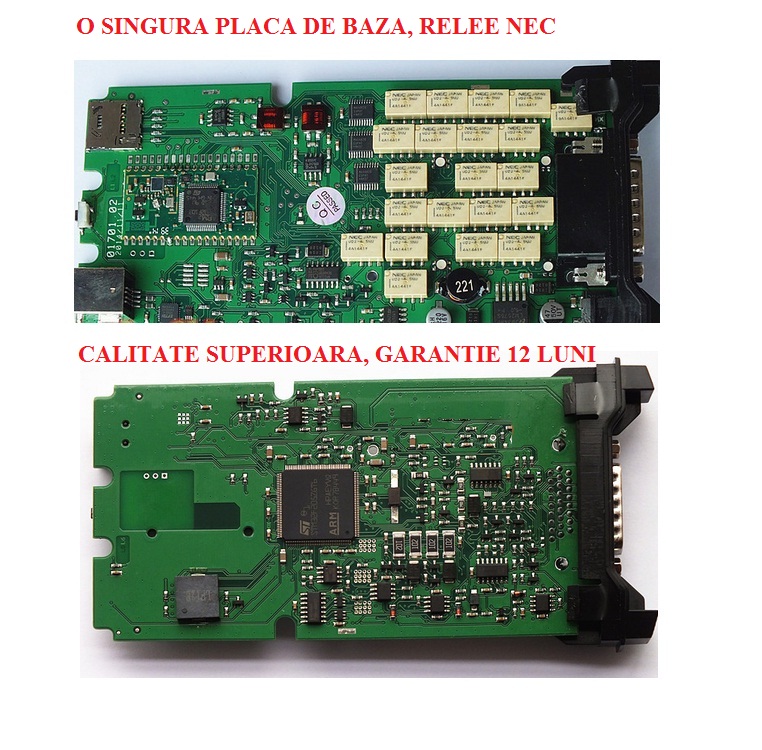 Limbi disponibile:
English, Cesky, Dansk, Deutsch, Espanol, Francais, Greek, Hollands, Hungarian, Italiano, Norsk, Polish, Romana, Russian, Srpski, Suomen kieli, Svenska, Turkish.
Pachetul cuprinde:

1 X Interfata DELFI DSVCI+ cu Bluetooth unitatea de diagnoza
1 X Laptop Refurbished Dedicat Diagnozei Auto
1 X Database 2015/2016/2017 Dvd
1 X Cablu USB / OBD2

Caracteristici minime laptop refurbished dedicat diagnozei auto:
- Procesor Intel Dual Core 2.0 Ghz
- Memorie instalata minima 2 Gb
- Hard stocare minim 250 Gb
- Cd \ Dvd Reader \ Writer
- Sistem de operare integrat dedicat diagnozei auto
- Baterie cu durata minima de utilizare 1-2 ore
Notificare:

- Atentie !!! Laptopurile militare antisoc Dell Latitude E6400 XFR/Panasonic CF-53 I5 au numar limitat si sunt oferite in limita stocului disponibil !

English Full Product Description:
TCS CDP Pro+ is a quick and reliable diagnostic tool serving as a link between vehicle and computer. It works on both old and new vehicles.
With CARS, you are able to perform brand specific diagnostics for cars and light vans from 1988 onwards. A total of 48 different brands. With TRUCKS software package, you are able to perform brand specific diagnostics for light and heavy commercial vehicles, buses and trailers from 1995 onwards.
A total of 37 different brands. The diagnostic program GENERIC is designed for the legislation based diagnostics, specially targeted for emission related fault codes. GENERIC is included in CARS and TRUCKS packages.
Multiplexer function, 2xHS CAN (ISO 11898-2), SW CAN (SAE J2411), K/L (ISO 9141-2), VPW (J1850), PWM (J1850), RS485 (J1708), TTL and (SPI, analog in, 5volt out).
FUNCTION
1.Read & Erase Fault Codes & SLR All Systems(Petrol & Diesel Engine Management, ABS, Instrument panel, Climate control, Gearbox, Immobiliser, SRS, Multifunction (Central Body, Central Locking, Convenience Systems, Chassis, Infotainment, Lights, Navigation, Seats, TPMS etc-Vehicle Specific)
2.Look at Live Data, graphing and saving of live data
3.Component Activation,
4.ECU Coding / Parameter Adjustments / Component Configuration (initialization of new components, particulate filter regeneration, Diesel Injector coding, TPMS etc)
5.Intelligent System Scan – complete scan of all ECU / ECM's on vehicle platform, configurable by system
6.Full Vehicle Information tree – allowing vehicle specific check of OBD functionality without being connected to a vehicle
  Customer reporting system
  Direct Linking to Delphi Technical Data
7.Service Light Reset and Service Interval Reset, including 'BMW Condition Based Service' reset and Fiat Stilo, VAG.
  Audi A6, A8 / VW Passat, – Electronic Handbrake, Piston reset for before and after brake service
  Mercedes E Class (211/230) De-activation and Activation of SBC (brake-by-wire) brake system, so that brakes can be serviced.
  Peugeot Additive Tank Reset and Regeneration of Particle Emission Filters•Renault Laguna II, Espace IV, Velsatis, Peugeot 607, 807 and Citroen C5 & C8 - Tyre       Pressure Monitoring Systems – Valve programming
  Diesel Injector Coding for Delphi Systems*
FLIGHT RECORDER
With the flight recorder function, you can record parameters in real time while you are driving a vehicle. During recording, you can, with a press of a button, highlight the specific error so that you can investigate the detected error at a later time. TCS CDP+ is equipped with built-in memory thus removing the need to bring a computer. Memory cart not include in package .
MULTI COLOUR INDICATOR
With the multi colour indicator on CDP+, you have full control of the diagnostic process. Different colors and sound communicates the status and the placement of the indicator allows you to see it from a far. For example, if the indicator alternates between blue and green the CDP+ is in communication with the vehicle control unit.
VOLTAGE CHECK
When CDP+ is connected to the vehicle, the unit will check the battery voltage of the vehicle and automatically adjusts itself to the vehicle's voltage level of 12 or 24 volts. If the voltage gets too high or too low, CDP+ will warn you with both sound and light and you will also be alerted through the battery icon in our diagnostic software.
CHASSIS NUMBER VIN 
In our CARS software, we have a smart function that allows you to read out the chassis number from the vehicle that you would like to diagnose. This ensures that the right model and year is selected automatically. In addition, engine code for vehicles, which are commonly available on the markets, is also selected automatically.
ISS Intelligent System Scan (ISS) scans through all the systems in the vehicle and displays the fault codes that are stored in each system. This saves time and you get a quick overview of the actual status of the entire vehicle. When the ISS is complete, you can then select a specific control system to analyse the results further on.
ISI Intelligent System Identification (ISI) identifies and selects automatically the type of controller that is mounted in the vehicle. This ensures that the diagnostic session is performed correctly with the correct parameters as required.
REPORT FUNCTION
Under this function tab, you will be able to see the adaptations and adjustments that are possible for a specific vehicle without having the vehicle near you. Together with the help texts as a guide, you can plan and be effective in your work; even under complex situations.
OBD-FUNCTIONS VCI CDP+ is equipped with an unique multiplexer technology, which allows it to be used on all types of vehicles, regardless of voltage levels and communication standards. For those vehicles that do not use the standard 16-pin connector, we offer a complete set of certified and customized adapter cables and kits.
UNIVERSAL
For most OBD functions, such as adjustments and programmings, there are detailed instructions and help texts to assist you in your diagnosis work. You will find step by step information about prerequisites, preparation and implementation of various functions; making even the most complex function simple to perform.
HELP FUNCTION
For most OBD functions, such as adjustments and programmings, there are detailed instructions and help texts to assist you in your diagnosis work. You will find step by step information about prerequisites, preparation and implementation of various functions; making even the most complex function simple to perform.
Tutorial prezentare video utilizare DELFI 2016 dati click pe demonstatie video. 

In vederea functionarii versiunii 2016.00 este necesara activarea acesteia. Timpul necesar de raspuns pentru activare 'File Activation" poate varia intre 1-24 ore in functie de momentul zilei ales pentru instalarea programului aferent. In cazul in care achizitionati kit-ul interfata + laptop, versiunea 2016 este deja activata si functionala integral. Pentru mai multe detalii va rugam utilizati 

formularul de contact

.