KIT PROFESIONAL MULTIMARCA 12/24V compus din: Tester HD 3.0 Launch X431 Impreuna cu Launch V+ Pro4 Plus este dedicat segmentului de Turisme, Autoutilitare, CAMIOANE si TIRURI - produs 100% original este cel mai nou produs al fabricii Launch, este versiune 2020 si are 12 luni update Gratuit, reprezinta acum cel mai dorit aparat in toate service-uri din prezent, atat in Europa, Sua si Asia. Este prezent in Europa prin distribuitorul oficial Launch. Este foarte important sa cumparati acest produs doar de la reprezentante autorizate deorece desi sunt doar cateva luni de la aparitia produsului exista deja pe piata din China clone identice insa de calitate inferioara si fara acces la update pe site-ul Launch.
Aparatele sunt originale, achizitionate direct de la producator, garantia faptului ca produsul este original este faptul ca update-urile softului se fac direct de pe site-ul oficial Launch, astfel puteti verifica autenticitatea documentelor primite in colet. Veti primii user si parola de acces o data cu achizitia acestui produs. In pozele reale de mai jos veti regasii cum arata plicul sigilat cu userul si parola de acces primite de la producator.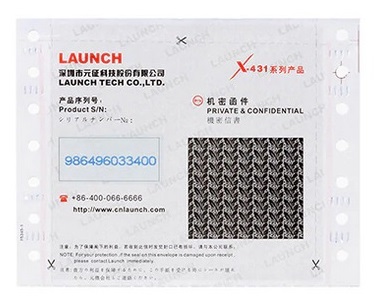 Original Launch X431 V+ HD3 Wifi/Bluetooth Heavy Duty Truck Diagnostic Tool
Launch X431 V+ HD3 is a modified version of the multi-brand scanner Launch X-431 Pro which, in its new edition, received a more powerful tablet and a diagnostic function for heavy duty vehicles. The device includes all the advantages of the Pro series and is presented with advanced diagnostic algorithms that allow you to quickly and deeply test the car. The complete set HD - is intended for trucks diagnostic. The HD package is a set of Launch x431 V+ plus the diagnostic module of trucks Launch HD Box 3.0, it turns out cheaper than buying everything separately. Launch X431 V+ HD3 is a brand new advanced automotive fault diagnostic tool based on Android system. It passes on Launch advantages in automotive fault diagnostic technology, such as wide Car and Truck model coverage, powerful function, abundant special function and accurate test data, etc. X-431 V+ and HD3 achieves full diesel truck model and full system fault diagnosis through the Bluetooth communication between Data Link Connector (DLC) and smart mobile terminal.
Launch X431 V+ All System Car Diagnostic Scan Tool Automotive Scanner Tablet Wifi Bluetooth with 16 Special Functions ECU Coding + Two Years Free Update Online + Multi Languages Supported + Global Version
Launch X431 V+ is a 10 inch tablet with the Powerful diagnostic softwares, the update version of X431 V. It can also be used with Launch HD module to test Heavy Trucks. If you want to test truck, please contact us. It is global version, no IP limited.
You can use it everywhere in the world. 2 years free update & 5 year free warranty. Supported Languages: English, Italian, German, Japanese, Russian, French, Spanish, Portuguese, Polish, Turkey, Dutch, Greek, Hungarian, Arabic, Denish, Korean, Farsi, Romanian, Serbian, Finish, Swedish, Czech. ECU Coding and Auto VIN Tech This diagnostic tablet supports ECU coding function on a large amount of makes, including Benz, Ford and more. It also supports quick diagnosis via one-button VIN scanning. Active Test The Active Test function is used to access vehicle-specific subsystem and component tests. Available test vary by manufacturer, year, and model, and only the available tests display in the menu. All System Diagnosis LAUNCH X431 V+ can read DTCs and data streams for ALL systems to diagnose car comprehensively including Fuel system, Emission system, Transmission, Engine, Body, Powertrain and more, thus users don't have to buy other tools for diagnosing systems for time & money saving.
16 Reset Service
1. Oil Reset Service----Clear the Oil light, perform reset for the engine oil life system;
2. Steering Angle Calibration----Perform steering angle adjustment, clear steering sensor fault memory and turn off steering wheel warning light.
3. Electronic Parking Brake Reset----Reset the brake pad after repairs in electronic parking brake system are done.
4. Battery Register & Battery Maintenance----Re-match the control module and motoring sensor for battery detecting more accurately, clear original low battery information and prevent the related control module from detecting false information.
5. ABS Bleeding----Perform various bi-directional tests to check the operating conditions of Anti-lock Braking System (ABS).
6. Electronic Throttle Position Reset & Learn----Initialize the throttle actuators to the default state for regulating throttle (or idle engine) operations accurately.
7. Diesel Particulate Filter (DPF) Regeneration----Clear particulate matter from the DPF filter to stabilize the filter performance. 8. Tire Pressure Monitor System Reset----Reset tire pressure and turn off the tire pressure MIL.
9. Tooth Learning----Clear the lost car key's information and program the new key into the ECU database to protect user's car from being stolen.
10. Anti-theft Matching----Clear the lost car key's information and program the new key into the ECU database to protect user's car from being stolen.
11. Injector matching----Program in the new fuel injector numbers after replacement to replace the ones previously programmed into the ECU.
5 More Reset Functions
You can check the 5 reset functions in the car diagnostic software.
1. Air Suspension Reset
2. Gearbox Reset
3. Sunroof RESET
4. AFS Reset
5. EGR Reset
Car list of the 5 reset functions
Air Suspension Reset
Audi, Mercedes Benz, BMW, Citroen, Chrysler, Ford, GM(Cadillac, Chevrolet, GMC, Holden) Peugeot, Seat, Skoda, VW, ChangAnFord, DFCitroen, SGM, YQVW
Gearbox Reset
BMW, Mercedes Benz,Chrysler, Ford, GM(Buick, Cadillac, Chevrolet, GMC, Holden, Hummer, Pontiac, Saturn), ChangAnFord, SGM(BUICK, CADILLAC, CHEVROLET, BUICK TRUCK), BYD, CHANGAN, Chery, Geat Wall, Geely
Sunroof RESET
Mercedes Benz, BMW, CHRYSLER, Cadillac
AFS Reset (Adaptive Front lighting System)
AUDI, MERCEDES-BENZ, MG, CHRYSLER, GM(Cadillac, Chevrolet , GMC, Daewoo, Alpheon, PONTIAC, Holden, OLDSMOBILE, BUICK, SATURN, GMC TRUCK, CHEVROLET TRUCK), OPEL, SEAT, SKODA, VW, SHVW, SGM(BUICK, CADILLAC, CHEVROLET, BUICK TRUCK), YQVW, BAIC, GREATWALL, CHERY, CHANGAN, ROEWE, YQJC, ZOTYE
EGR Reset
MERCEDES-BENZ, BMW, CITROEN, Chevrolet, Daewoo, Holden, PEUGEOT, RENAULT, VOLVO
These reset functions support different models and years of the car. If you want to know more information, please contact us.
Technology Backup
You can get remote control tech support from LAUNCH tech team by sending one-click recorded videos and accurate diagnostic results to them. Also, the one-click update online feature is quite convenient.
Bluetooth and Wi-Fi enabled:
You are able to do remote control as this tool can be used through Bluetooth or Wi-Fi. And via Bluetooth, it is simple for DBScar diagnostic connector to communicate with X-431 V+.
Supported Car List for Full System Diagnostics
BMW, Benz, GM, USA Ford, Chrysler, VW, Porsch, Toyota, Volvo, Audi, Acura, Changan, Daweoo, Gaz, Hafei, Huachen, Jiao, Lexus, Xiali, Xinkai, Fiat, Holden, Maruti, Opel, Peugeot, Saab, Ssangyong, Tata, Changhe, Flyer, GMSA, Infiniti, Mahindra, Perodua, Proton, Qirui, Tlisuzu, Zhongshun, EOBD2, Euroford, Jagar, Renault, Smart, Sprinter, VAZ, Changcheng, Dacia, Ford, HaoQing, Jinlong, Liuwei, Rover, ZhongTai, ZhongXing, Bxfiat, HM, Isuzu, Jacty, JPIsuzu, Mazda, Seat, Skoda, Suzuki, Daihatsu, Mitsubishi, Citroen, Hyundai, Kia, Lancia, Landrover, Nissan, Romeo, Subaru
Note: Optional LAUNCH X431 HD Truck Module,you can Purchased X431 HD separately and free update trucks diagnostic software to diagnostic trucks.(if you are order the x431 HD and work with X431 V+,your LAUNCH X431 V+ will be Expanded into a petrol cars and diesel trucks 2 in 1 diagnostic device.)
Pentru mai multe detalii va rugam utilizati formularul de contact.