Interfata auto Launch X431 EasyDiag 3.0 Turisme + HD Camioane tableta Huawei 10 Inch, Husa Thoughbook
SKU: X431 LAUNCH EasyDiag 3.0 Huawei 12/24V
Pret vechi: 2.699,00 RON Reducere 3%
Pret nou: 2.599,00 RON
In functie de valoarea comenzii dvs pretul poate include cheltuielile de livrare ! Livrarile in afara Romaniei se fac prin DHL/EMS contracost.
!!! OFERTA PENTRU TURISME 12V SI CAMIOANE 24V (Update Gratuit 12 luni) !!!
INTERFATA AUTO BLUETOOTH PRODUSA DE COMPANIA LAUNCH - UPDATE LA ZI  FULL COVER Easydiag 3.0 (model Galben) versiune 2020, update 2021 OFERA LA NIVEL PROFESIONAL: DIAGNOZA+PROGRAMARE+FUNCTII SPECIALE

Kit-ul de diagnoza include:
Tableta Huawei 10 inch
Interfata de Turisme Easydiag PRO3S 12V
Adaptorul de camioane HD Easydiag 24V
Prelungitor OBD2
Cutie de transport
Husa protectie antisoc originala Huawei, grad protectie military grade

Geam protectie sticla tableta, model profesional antisoc (in limita stocului)
Acest kit interfata auto se foloseste la fel ca si un aparat profesional de diagnoza auto cu preturi de la 1000 Euro in sus ! TOTUL VINE INSTALAT SI GATA DE UTILIZARE !

Pentru diagnoza camioanelor este utilizat DOAR acest adaptor HD 24V: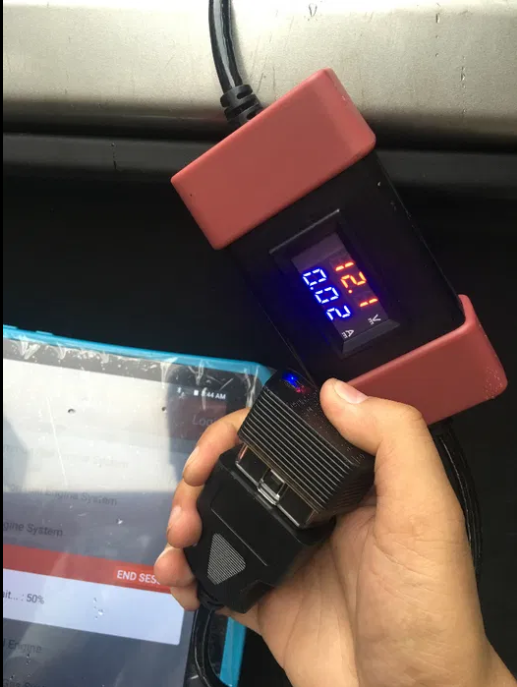 2020 version arrival LAUNCH Easyiag 3.0 Bluetooth works with Android system 
1. This link includes Original Standard EasyDiag 3.0

2. It can for Android (up to 4.4 and newest versions)

3. This is 100% Original Easydiag, support LAUNCH official software, you can register and buy software from offical website!
4. EasyDiag 3.0 Software includes all vechicles software+DEMO+EOBD (DETAILS on oficial site)
5.

Standard

EasyDiag 3.0 only includes hardware,
without any free software 
-----you can buy whichever software from LAUNCH offcial website , then EOBD and DEMO as gift

-----
This item has been upgraded and encrypted by LAUNCH, any pirated software will be prohibited. Otherwise will be demaged 
This new powerful tool is easy to work with your ios device, making your Android a powerful diagnostic scanner!
This tool can update on launch website,once your register successfully, you can choose the car brands software based on your requirment and pay for it,then you can download to your iPhone or iPad or Android device .
Then, connect your Android device with Launch X431 EasyDiag, you can diagnose the cars.
This  tool does not require an interface. A single Bluetooth connector along with the company's software allows the user to select from over
30 manufacturers for Asian, European and Domestic applications.
1. Full OBDII generic code reader/scanner capability included at no charge
2. Read and clear codes on all vehicle systems
3. Complete system and subsystem coverage (engine, ABS, SRS, transmission and more) with live date and color graphing
4. Enhanced live date and for all vehicle system
5. Includes Bluetooth OBDII connector-optional extension cable available for easier plugging and unplugging of OBDII connector
6. Intuitive interface and easy to use
7. Customizable software-choose from over 70 Asian, European and North American manufacturer for enhanced capability
8. Single carline software priced individually per vehicle manufacturer Additional coverage, capabilities and functions with each new software update
We only provides this device with hardware, no software included. You must purchase software directly from Launch DBSCAR website. Each car brand software costs 50USD.
Software supports online update, free update in one year. After one year, each software update cost is 29.95USD.
for BXGM, for CHRYSLER, for G-M, for USAFORD
European:
for AUDI, for BENZ, for BMW, for CITROEN, for DACIA, for EUROFORD, for FIAT, for GAZ, for GMSA, for JAGUAR, for LANCIA, for LANDROVER, for MINI, for OPEL, for PEUGEOT, for PORSCHE, for RENAULT, for ROMEO, for ROVER, for SAAB, for SEAT, for SKODA, for SMART, for SPRINTER, for VAZ, for VOLVO, for VW, for FORD
for ACURA, for DAEWOO, for DAIHATSU, for HOLDEN, for HONDA, for HYUNDAI, for INFINITI, for JPISUZU, for KIA, for LEXUS, for MAHINDRA, for MARUTI, for MAZDA, for MITSUBISHI, for NISSAN, for PERODUA, for PROTON, for SSANGYONG, for SBARU, for SUZUKI, for TATA, for TLISUZU, for TOYOTA
Precautions on operating vehicle's ECU
Do not disconnect the vehicle inner consume when the ignition switch is on, so as to avoid the sensors or the ECU damage.
Do not place the magnetic object near the ECU in order to avoid the failure of the circuitry and components.
Do cut off the power supply of ECU system before welding on the vehicle.
Pay more attention to the ECU and the sensors when the operation is next to them.
Ground yourself when you disassemble PROM,otherwise ECU and sensors will be damaged by static electricity.
Do connect ECU harness connector firmly,otherwise electronic elements, such as IC inside ECU, will be damaged.
The instrument is a precision electronic instrument. Pay more attention when in use, do not have it dashed.
The equipment power is supplied by 12v battery voltage;do not use other voltage power.
Turn off the ignition switch when connect or disconnect the diagnostic connector.
Put the EasyDiag in its place on the back of the protective casing in order to avoid lost.
Pentru mai multe detalii va rugam utilizati formularul de contact.
0760.846.754; 0723.448.645; 0763.920.531; 0756.773.632 - Comenzi telefonice
Program de lucru: Luni-Vineri 09:00-17:30, Sambata 10:00-12.00
Detalii produs
---
Categorie: TESTERE CAMIOANE
Greutate produs: 3 kg.
Cod produs - SKU: X431 LAUNCH EasyDiag 3.0 Huawei 12/24V