GM Multiple Diagnostic Interface 2 ( GM MDI 2) este noua interfata de diagnoza profesionala utilizata pentru diagnosticarea computerizata a autoturismele produse de GM (GENERAL MOTORS), prezenta actual in reprezentantele autorizate de service pe gama GM, Opel.
Suporta toate protocoalele implementate pe masinile GM: UART, KWP2000, CLass2, GM LAN(CAN). In prezent exista disponibila si versiunea 2020 inclusiv cu transmisie WIFI.

Noi va propunem in vederea achizitionarii 2 modele GM MDI similare ca si functii insa diferite ca pret de achizitie: avem varianta accesibila prin transfer cablu si varianta mai scumpa prin transfer date Wi-Fi. Modelul pe care il regasiti in acest anunt este produs in China, placa de baza insa este de origine similara 1/1 cu Bosh, este acelasi model Made in China ca si configuratie pe care-l regasiti si la distribuitorul autorizat din Ungaria. La cererea dvs va putem importa produsul direct din Ungaria insa la un pret net superior celui afisat pentru varianta chinezeasca, avand in vedere costurile aditionale suplimentare ale distribuitorului legate de licenta si vanzare.

Pachetul include componentele descrise mai jos si geanta de transport:

GM MDI2 unitatea principală
GM MDI DLC prin cablu
GM MDI UBS cablu
Cablu LAN
AC adaptor
Instructiuni instalare si utilizare direct de la producator: www.gmmdi.com in limba romana (click pe imagine)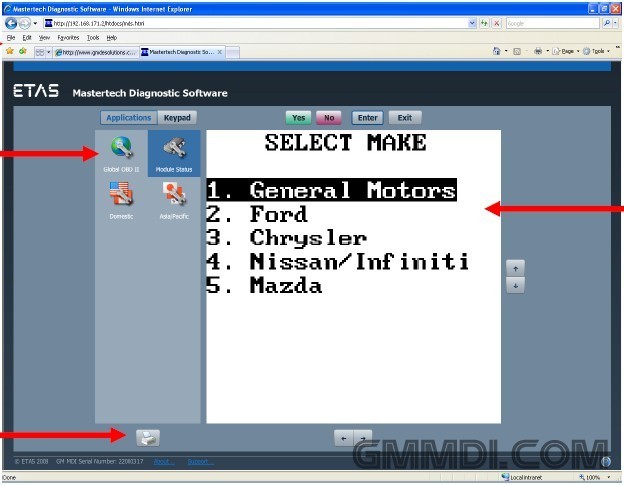 Descriere completa GM MDI oferita de producator in limba Engleza:
Our high quality GM MDI works with Tech2Win for old GM car models and GDS2 for new GM car models.
Our high quality GM MDI works with Wireless Card for WiFi convenient use.
Our high quality GM MDI is compatible with online TIS2Web for reprogramming if the user has a subscription account.
Set Includes:
GM MDI main unit
Diagnostic cable
USB cable
LAN cable
Power supply adapter
User manual
USB Flash Disk
Carrying case
General Motors Global Electrical Architecture (Global A) and Global Diagnostic Hardware &Software Global Diagnostic System DGS& Mutiple diagnostic Interface MDI.
Authentic General Motors MDI vehicle communication interface for wireless J2534 reprogramming.

GM MDI scan tool can certainly test all of the GM car from 1990 to present. However GM TECH2 just operate up to 2009 year GM car.
Function
1. Diagnostic Trouble Codes (DTCs) Available Powertrain, Body, Chassis, Diagnostic Circuit Check system.
2. Ability to capture stored DTCs, Freeze Frame, Clear DTCs, Review DTCs.
3. Data Display: ECU, Vehicle Information.
4. SnapList: System Config, Data, Inputs, Outputs, Security, more....
5. Available diagnostic data parameters from the various system ECUs. A specific predefined list of diagnostic data parameters may be available
6.Bi-directional The authentic GM 1992-current year software will provide full bi-directional control when performing power train, chassis, and body diagnostics.
7. Support Vehicle Type: Car, LD Trk, MPV, Incomplete Medium Duty Truck, Saturn.


GM MDI Interface
GM Multiple Diagnostic Interface
All present and the most older vehicle protocols: UART, KW2000, CLASS2, GM LAN, etc.
Required for Global A architechture vehicles
Supports Service Programming System (SPS)
Passthrough progrmming on past model and Global A vehicles
Supports PC-Based diagnostics with rollout of the Global Diagnositc System (GDS) program
Includes Flight Recorder Mode
GM MDI Scan Tool
GM MDI and GDS Background
MDI is an interface between your vehicle DLC and a PC (by wired USB, wired Ethernet, wireless Ethernet ) and TIS2web.
Are available for SPS programming on current and also future SGM vehicles
Required for diagnostics on new SGM Global A Electrical Architecture Vehicles
Used with TIS2Web, GM Global Diagnostics System (GDS), SPS and MDI Manager Software
Allows for GDS diagnostic
When you test after 2010 year gm car, you can use gm gds2 software:
GM MDI full software, click !